July 4th Independence Day Family Festival
July 4th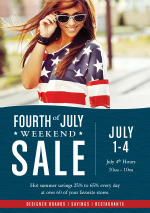 July 4th Family Fun at the Boardwalk!
Join us throughout the day for family entertainment!
Bands located under the Texas St. Bridge and along the riverfront
Our Stores will also be open until 10pm for GREAT sales throughout the property! Sidewalk Sales will be held throughout the day! **Bass Pro will be closing at 6pm on Friday the 4th.